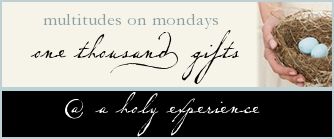 Lately I haven't had much to say because honestly I have been struggling. Struggling to relax into the life that God has planned. Because I had a different plan, well at least in my mind it looked differently than it does in reality. Our days can be unpredictable at best. I am a list girl. Give me a pen, a paper and a mug of steaming coffee and I am content. At least I was. Then I learned that once the ink has dried on that list there is something else to do. Another step to take. Surrendering that list to His hands and submitting to His will.
When I take a step back and given the choice between a life with Him and a life without Him, I will choose Him. Actually there is no choice. He contains my next heart beat, my next breath, my joy and all the hope available. It is just hard knowing as I put one foot in front of the other that today may be a hard day. I may be called to die to myself a little more and be patient when I would rather stomp my feet and demand my way. To forgive hurtful words and actions...again. To have to say I am sorry and seek forgiveness....again. To see myself as I really am and know it is not where I want to be. To make mistakes and have others see those mistakes.
But when I stop, take a deep breath and look around me I remember Ann Voskamp and the first moment I read her challenge. To count the way He loves. Count the blessings, say the hard hallelujahs. I remember the excitement that roared through me. The hope of being able to love the moments, all of the moments, because finally I saw that He gives each one. And to know that even something I don't like or that I think is hard, is more than worthy of my saying 'thank you'.
So in order to start my week off here are a few of my favorite things...
1) Gingerbread - gingerbread coffee, latte's, candles, muffins - LOVE gingerbread - the flavor, the smell
2) Those hard passages that we wrestle with. That leave us asking WHY and HOW. That leave us with more questions than answers, that keep our heart set apart to Him. Thinking about Him, wondering about Him, and yes even wrestling with Him. Because no matter what I cannot forget it
is
all about Him.
3) The opportunity to get up early when I would rather snuggle down into the warmth and comfort of my blanket. It is the chance to die just a little more to self.
4) Getting older, seeing the effects of aging, the little gray hairs, the lines around my eyes, the need for glasses now...this is a privilege SO many people would love to have. People that now lie quiet in their graves. And yes I am certain many would choose to be in the presence of God instead of living life on Earth, but still being here, seeing my children grow up, it is a gift. And who cares if I look like I have lived 36 years here? Isn't that part of the gift?
5) Being married. Being in any relationship is hard. Loving someone else more than you love yourself is a daily battle. But what battlefield is more glorious or more worth our love spilled out than the battle to love your spouse more than you love yourself?
6) Being a Mom. It is hard. SO SO hard. The days can be long. They can be full of complaining and whining and bickering. But that moment when they wrap their arms around you say, "Mommy, I love you so much." AHHHH there is nothing like it.
7) Tanner rounding the corner as he runs to his cage. The floor is tiled and he tries so hard to stay upright, yet in his excitement he tumbles and scratches and careens from side to side. His ears flop and it is just about the cutest thing. Ever.
8) The ability to write. And read. And walk. And run. And think. And speak.
I hope you all have wonderful weeks.